We're Hosting a Female Fandom Panel at New York Comic-Con!
It's on Friday, October 10 at 4 p.m.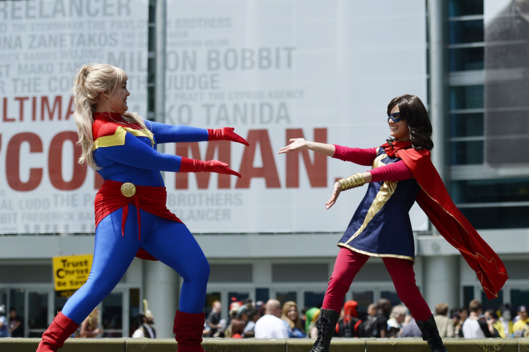 Calling all geeks (and people who care about female representation in the geek world)! If you're going to New York Comic-Con, please stop by Vulture's "Carol Corps and Beyond: The Future of Female Fandom" panel in room 1A10 on Friday, October 10 at 4 p.m. In recent years, there's been an explosion of organized superhero fandom led by women — most notably, the loose confederation of Captain Marvel fans known as the "Carol Corps" — and we'll be investigating why that's happened now, what took so long, and where it's all headed. The lineup is crazy good, too: Captain Marvel scribe Kelly Sue DeConnick; longtime Batgirl writer and all-around online feminist hero Gail Simone; and the outspoken editor of Captain Marvel and Ms. Marvel, Sana Amanat. (It'll be moderated by yours truly, but hopefully they'll do most of the talking.) Unfortunately, tickets to the Con are sold out, but if you're already attending, we hope you'll join us!