The Imitation Game Wins Toronto Audience Award
Starring Benedict Cumberbatch.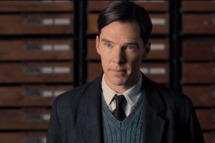 Today marked the end of the 39th Toronto International Film Festival, which closed out as usual with the announcement of the festival's audience choice awards. In addition to its star receiving the unofficial title of most "yummy," Benedict Cumberbatch's Alan Turing biopic The Imitation Game took home the biggest prize, the Grolsch People's Choice Award, with Patricia Clarkson's Learning to Drive and Bill Murray's St. Vincent coming in as first and second runners up, respectively. Meanwhile, Jemaine Clement and Taika Waititi's vampire flick What We Do in the Shadows took home the audience award in the midnight madness category (which we discussed with him this morning), while the audience award for best documentary went to Hajooj Kuka's documentary about Sudan, Beats of The Antonov. Ladies and gentlemen, start your Oscar buzzing!