Nobody Loves Other Actresses More Than Jessica Chastain
Read her awesome quotes about Scarlett Johansson, Viola Davis, Jennifer Lawrence, and more.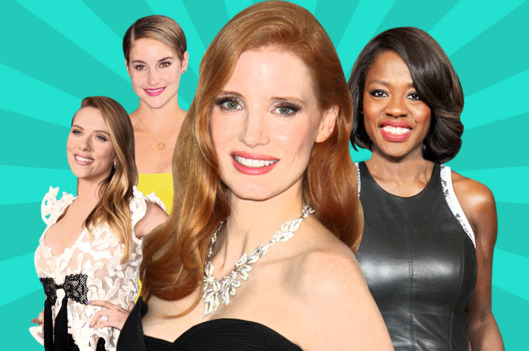 In an industry where A-list actresses are taught to compete with each other for the few three-dimensional parts that Hollywood bothers to create for women, Jessica Chastain rises above that fray: The Zero Dark Thirty star has always been a terrifically vocal advocate and ally of her fellow actresses, and when she sees another woman delivering a powerful performance, she'll begin touting that actress with such a fervor that you might suspect Chastain has found a second career as the woman's publicist. That isn't the case, of course: Chastain is simply a self-described cinephile whose most impassioned cause is remedying the "huge problem in American cinema where stories about women aren't nurtured and celebrated and brought to the screen as often as stories about men." She does her part in every interview she gives, where she's more likely to discuss the other actresses she admires than she is to talk about herself. Here are just some of the women in Hollywood whom Chastain has celebrated:
• This month, Chastain singled out Scarlett Johansson as part of a new wave of actresses that Hollywood ought to build more movies around, telling Vulture, "Money means everything, and audiences are flocking to movies like the one Scarlett Johansson did, Lucy, which had a wonderful opening weekend." Later, she'd tout Johansson even more to The Wrap, while calling out Marvel for its reluctance to craft a stand-alone Black Widow film: "Where is the Scarlett Johansson superhero movie? I don't understand it, why is it taking so long for this?" she asked. "This woman clearly shows that people want to go see her in the movies. Lucy, didn't it beat Hercules by a lot opening weekend, when it was made for a lot less? She shows that she kicks ass, she's a great actress … To me, it's a no-brainer. You want to make money, put Scarlett Johansson in a superhero movie!"
• Over several awards-season gauntlets, Chastain and Shailene Woodley have become fast friends, and Chastain told Vulture this month that Woodley is "not only a great actress, but also a warm and wonderful person." That was evident in 2012, when we watched the two women run into each other on a Cannes red carpet, prompting Chastain to gasp and envelop Woodley in a tight embrace, exclaiming, "That's my friend!" (Woodley then cried when we asked her about the hug, telling Vulture, "I just ... my heart chakra opens up to a million degrees when I see her. She's a phenomenal human being.")
• When Chastain caught Blue Jasmine last year, she was thunderstruck by the central performance. "Cate Blanchett is an absolute genius," she wrote on her Facebook page. "I love this film and I love Cate. She's always inspired me. I hope I get the opportunity to work with her." Chastain even shared a cute post-Jasmine anecdote: "I was walking out of the theatre, feeling like a snow bed willow next to Cate's sequoia, when a very nice man recognized me. He had seen everything of mine and was very supportive. So thank you, Anil, for being so kind! You had perfect timing."
• Chastain was nominated against Amour's Emmanuelle Riva for an Oscar in 2013, but she didn't let that get in the way of her ardor. Recapping a night at the BAFTAs that year, she wrote on Facebook, "I would have loved to see the exquisite Emmanuelle Riva, but I got to meet her at the NYFC dinner and one shouldn't be greedy."
• It's been a few years since Chastain made The Help, but she's still obsessed with her former co-stars. "As a viewer, I want to see more films with Viola Davis," Chastain told Vulture this year, "and I want to see her in leading roles!" Earlier this year, Chastian singled out Octavia Spencer, too. "I feel lucky to have worked with her," Chastain wrote on Facebook. "What a wonderful time that was. Now I need to find a buddy comedy with Ms Spencer! I miss working with her."
• When Chastain interviewed Marion Cotillard for the cover of Elle, she was typically effusive, praising Cotillard's work in Public Enemies and noting, "When I watched you in Rust and Bone last year, I just burst into tears."
• Don't assume that Chastain only reserves her praise for only the most highbrow of cinema; she's got a soft spot for comediennes, she told Vulture, singling out the recent Cameron Diaz comedy The Other Woman as proof. "I like really, really silly movies, too!" she said. "I saw The Other Woman recently and I loved it: Leslie Mann is a comic genius in that film, she's amazing. And when I was at the theater, people looked at me really strangely, like, 'What are you doing here?' because my films are so different. But I'll totally see a movie like that! I love 'em all."
• While at the Toronto Film Festival last year, "I ran into one of my favorite actresses, Emily Watson," Chastain wrote on Facebook. "I introduced myself and completely geeked out, but managed to hold it (somewhat) together until we said goodbye. I remember first seeing her in the brilliant film Breaking the Waves while in high school. It's a dark film, but Emily carries us through with hope and grace. It's one of the best performances I've ever seen."
• Some journalists have compared Chastain's potential as an actress to Meryl Streep, but Chastain demurs. "That woman, she's one of a kind," Chastain said in 2012. "No one can come close to Meryl Streep." In fact, Chastain nearly passed out once when Streep came backstage to see her after a play. "I was in the lobby with some friends of mine, and I look over, and I said, 'Is that Meryl Streep?'" she told Vanity Fair. "And as I said it, she turned around and started walking toward me, and that's when everything got kind of foggy."
• When it comes to picking new projects, Chastain likes to take her cues from the women she admires. "I would love to play another incredibly strong, badass character," Chastain told The Daily Beast. "How good is Jodie Foster in Panic Room? So great."
• Chastain has long been obsessed with the French actress Isabelle Huppert; in January 2012, she saw Huppert onstage and then went backstage to meet her. "I swear my legs were shaking and I could hardly speak!" she wrote on Facebook. "We met for dinner and spoke of cinema and theatre. Really it was like a dream for me. I've been a fan of hers for so long, and she proved to be very intelligent and kind. If by chance you haven't seen it, I strongly recommend her performance in The Piano Teacher. It taught me so much about film acting." Later, Huppert would play Chastain's mom in Eleanor Rigby, which prompted the younger actress to write to her Facebook fans, "Ok guys...remember how I said that Isabelle was a genius actress and that it would be my dream to work with her? Well... She is beyond. I just got a Huppert master class. : ) Yes, she's a genius. Obviously.. But she's also funny, intelligent, and very kind … I loved when Harvey Weinstein introduced Lawless at the premiere, he took a moment to acknowledge Isabelle Huppert's presence. He said she was acting royalty. Yep."
• When Chastain and Jennifer Lawrence went head to head at the Oscars in 2013, the media gunned up a fake feud between the two actresses that Chastain was quick to rebut on Facebook. "Why do we support the myth that women are competitive and cannot get along?" Chastain wrote. "I've done two photo shoots with Jennifer Lawrence over the years and have found her to be utterly charming and a great talent. I've told her how beautiful her film work is." She continued, "Please don't allow the media to perpetuate the myth that women aren't supportive of each other. Every time an actress is celebrated for her great work, I cheer. For the more brilliant their performance, the more the audience demands stories about women."