Larry David Hasn't 'Given Up Hope' of More Curb Your Enthusiasm
Pretty, pretty good news.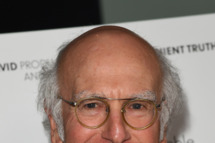 Don't worry, Curb Your Enthusiasm devotees: Larry David hasn't forgotten about you. During a Q&A session in Los Angeles on Sunday night, he was asked about the future of the beloved HBO show, which hasn't been on air since 2011. "After eight seasons on Curb, I'm just not sure my ideas are gonna be good enough for a whole season," he said. (When a heckler shouted, "Yes, they will!" David responded, sweetly, "I've been heckled a lot, but that was the nicest one.") However, it looks like there might be hope for the hecklers yet. "I feel bad that I don't have shows for them," he said of the series' diehard fans, "and I haven't given up the hope." Neither have we, Larry. Neither have we.