All of the Completely Absurd 'Talent Facts' From This Year's Miss America Pageant
"Slapped a shark as a kid."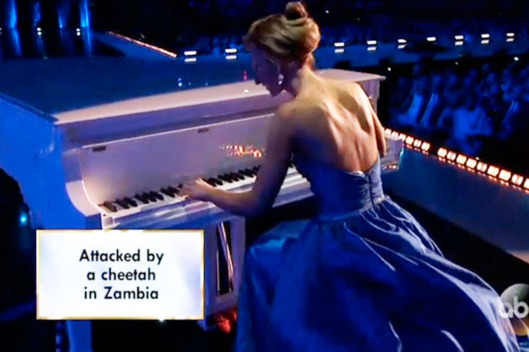 Congratulations to Miss New York Kira Kazantsev, who took the crown with her looks, grace, poise, and by playing the cups (yes, those cups) along to Pharrell's "Happy." And, honestly, that wasn't even the strangest talent act: This ventriloquist performance was. But no matter what the contestants chose to sing or dance to, they were upstaged over and over again by the Pop Up Video–style captions that appeared during their short acts — ranging from the impressive ("Sang in Carnegie Hall") to the completely absurd ("Slapped a shark as a kid"). It made you wonder exactly what was on those get-to-know-you questionnaires. Here are all the fun facts.
BEGIN SLIDESHOW