Elizabeth Warren Showed Up in Queens Yesterday to Play Herself on the Set of Amazon's Political Comedy Alpha House
The Garry Trudeau–created Amazon show returns for season 2 in October.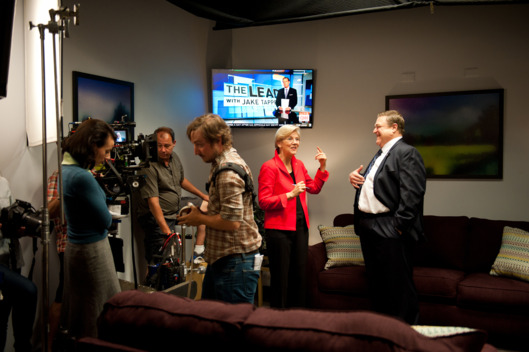 Massachusetts senator Elizabeth Warren visited Kaufman Astoria Studios in Queens yesterday to film a cameo for the second season of Alpha House, Amazon's political comedy created by Doonesbury's Garry Trudeau. And while Warren's certainly no stranger to television appearances, this marks her debut as an actress. (Though she's pretty much playing herself.)
In her scene, she crosses paths with Senator Gil John Biggs (star John Goodman) in the green room for CNN's The Lead with Jake Tapper. She's signing copies of her (real-life) book, A Fighting Chance, for a fan and also signs one for him, with a sly note that she's not going to be running for president. More than any other political show on television, Alpha House makes constant winks to real-life politics. So, this is confirmation that Elizabeth Warren will not be running for president, right??
This wouldn't be the first time, either, that Senator Warren has entered the meta-world of Garry Trudeau. She played a part in a Doonesbury story line in which one of his characters debates whether or not she should come out of retirement to stump for Warren. Her career follows Warren, and following Warren's victory, she goes to work for the senator, even writing her impassioned DNC speech (Trudeau actually asked Warren if it was okay to have the character work for her). "The senator being in this is, in some ways it's just a reprise of already being embedded in Doonesbury," said executive producer and journalist Jonathan Alter, as he stands on the edge of the room.
Warren and and Goodman banter back and forth. "This was really smart," says Goodman. "On top of being nervous, I just slammed a big espresso." After another take, Warren replies, "I had a half a cup of coffee in Providence some time in the '90s, and I'm still working it off."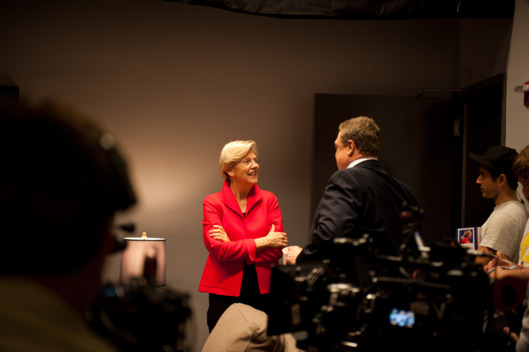 Following the short scene, Alter, who has known Warren for years as a source on his books about President Obama, takes us for a tour of the rest of the set. "It's great fun to come here and see the alternate reality to the one I live in Washington," Warren tells me as we look down the hallway that leads to the various Senate offices. "The one I live in Washington isn't nearly so clever." As we make our way to the titular house the four senators in the show co-habitate in, Warren sees a stairlift and asks Alter why it's there. It's for a risqué scene, he begins to explain when she stops him immediately. "Oh, I don't want to hear it!" she says. "No spoilers!"