Report: Jay Z and Beyoncé Are Making an Album Together
Be still, our hearts.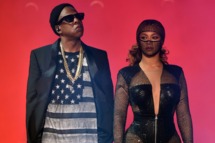 From divorce talk to baby talk, the Mr. and Mrs. Carter rumor mill churns on. Today's newest bit of hearsay comes courtesy of DJ Skee — via his brand-new radio station Dash Radio — who claims multiple sources have confirmed that the pair are working on a joint album that they plan to drop in late 2014 or early 2015. No word on what adjective of "in love" they will be this time. How about "Laughing All the Way to the Bank (in Love)?" Yeah, that sounds right.