Toronto: Robert Downey Jr. Deals With Family Matters
And gets ribald at a Toronto Film Festival press conference.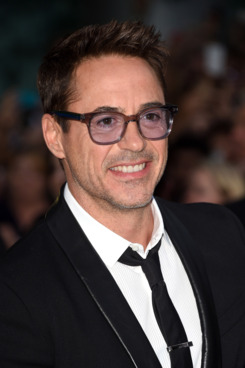 In just about every way, Robert Downey Jr.'s new film The Judge is a family affair. It stars the Marvel mainstay as an arrogant lawyer who returns to his idyllic hometown after his mother dies and is forced by his family to stay put in order to defend his ornery father (Robert Duvall) from a murder charge. Behind the scenes, too, there's kin: The Judge is the first movie from a production company started by Downey and his wife, industry veteran Susan Downey. "He's my favorite person to work with," Susan said this morning at a Toronto Film Festival press conference, as her husband bashfully raised his eyebrows.
"It's also very much a threesome with the director, and I mean that in the most platonic way possible … so far," said Downey, leering at the film's helmer David Dobkin. Now it was Dobkin's turn to raise his eyebrows, but his star wasn't done.

"It was this three-headed relationship," said Downey, "two of whom were at will to make love whenever they wanted to. Mr. Dobkin, would you like to comment on that? Your lack of involvement in our sexual life?"

"It's a bummer," said Dobkin, laughing. Then: "I was waiting for that to turn."

If you're waiting for that same sort of turn from The Judge — the moment that something conventional becomes levitational, thanks to Downey's quick improvisatory wit — you may go wanting. This is very much the sort of mid-budget family drama that Hollywood studios rarely make these days, but The Judge suggests they've almost forgotten how. Though Susan Downey cited films of the 1960s and '70s as inspiration and said persuasively, "Sometimes it's nice to have stakes that don't just involve defending the world," Dobkin isn't confident enough in his cast and premise to leave well enough alone: Every poignant moment of reconciliation between father and son is drowned in syrupy score, while every bit of pertinent backstory or motivation is underlined once, twice, three times into infinity.

The Judge received a harsh sentence from critics here at Toronto, but the public may go easier on it: There were some tears from the audience near the end of the premiere (especially from Downey's bawling costar Dax Shepard), and Downey was a sprightly, satisfied presence at last night's after-party and today's press conference. "I was buzzed by the conversations going on last night after the screening, the people saying, 'I was thinking about my dad,' or 'I was thinking about my big brother,'" he said. It's the first drama Downey has made since the underperforming The Soloist in 2009, and Susan Downey very much understated her husband's recent devotion to all things blockbuster when she noted, "It isn't one of the big tentpoles that Robert and I have been living in for a while."

The thing that brought Downey back to earth for this film may have ultimately been very personal: At the press conference, Downey was asked whether his anger in The Judge's father-son confrontations was fueled by still-lingering issues between him and his own father, the firebrand filmmaker Robert Downey Sr. "I suspect there always is," he admitted. Downey then turned to Duvall. "Suffice to say, I saved a lot of money on therapy with my own dad by working it out with you."