Urban Outfitters Now Sells the Most Vinyl Records
"The people buying vinyl ... are those who grew up with the ability to download music or stream it on Pandora and Spotify."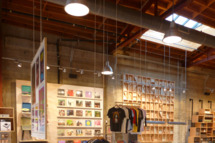 Vinyl records are getting cooler and cooler, says Nielsen, noting a steady rise in sales from 2007 until today. And that's mostly thanks to places like Urban Outfitters, whose chief administrative officer, Calvin Hollinger, bragged during a meeting with analysts yesterday: "Music is very, very important to the Urban customer … in fact, we are the world's number one vinyl seller." It's not just a format anymore — it's a lifestyle.