Adam Sandler Stars in Jason Reitman's American Beauty Live Read
With the rest of the <em>Men, Women &amp; Children</em> cast.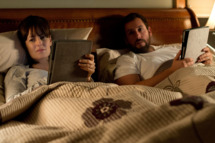 Entertainment Weekly reports that Jason Reitman will kick off his annual L.A. Live-Read series with a performance of American Beauty — which he did once before in 2012, starring Bryan Cranston — performed by the cast of his recent film Men, Women & Children. The reading will take place October 16 at the Los Angeles County Museum of Art and features Adam Sandler as Lester Burnham, in the role that won Kevin Spacey an Oscar, and Rosemarie DeWitt as his wife Carolyn, originally played by Annette Bening. Reitman also revealed some of the other live readings he plans to perform this year, including The Empire Strikes Back in December, Goodfellas in January, and Dazed and Confused in March. All starring Adam Sandler, we hope.