12 Best New Songs of the Week
Jessie Ware, Weezer, Childish Gambino, and more.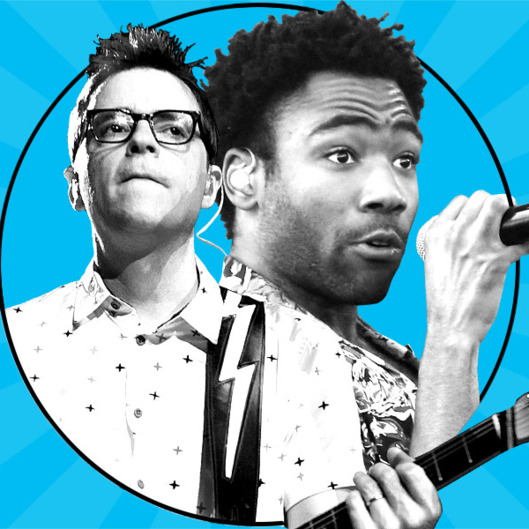 Every week, members of the Vulture staff will highlight their favorite new songs. They might be loud, quiet, long, short, dance-y, rawkin', hip, square, rap, punk, jazz, some sort of jazz-punk-rap fusion — whatever works for the given person in that given week. Read our picks below and please tell us yours in the comments. (Also, read our music critic Lindsay Zoladz's write-up about this week's best new albums from Tinashe, Caribou, and Ex Hex.) Enjoy! 
AlunaGeorge, "Supernatural"
I still have "White Noise" and "You Know You Like It" on heavy rotation, and they've been out for years now, so imagine my excitement when AlunaGeorge finally released new music. It has that Daft Punk–robot vibe and lyrics about magic and space travel, but it is Aluna Francis's haunting voice that makes this song. —Marcus Jones (@MJinMD)
BROODS, "Four Walls"
The BROODS album, Evergreen, is finally out, on Spotify as well as elsewhere — although you might already be familiar: It was released in Australia a few months ago. That's because the brother-sister duo is from New Zealand, and like their compatriot Lorde, they're working with those pleasing, airy melodies. "Four Walls" builds as it goes, with a chorus as catchy as any Katy Perry single. —Lindsey Weber (@LindseyWeber)
Childish Gambino, "Secret Track"
Rapper and internet favorite Donald Glover (a.k.a. Childish Gambino) dropped his STN MTN / Kauai mixtape in full last week. He also left a treasure hunt for listeners in the form of a half-assembled secret track at the end of the tape. Clues were scattered across Twitter, a screenplay, and the mixtape's site. A couple days ago, Reddit users collaborated to put the pieces together. The result is this twinkling, soul-infused gem. —Sean Fitz-Gerald (@srkfitzgerald)
Escort, "Actor Out of Work" (St. Vincent cover)
Sometimes you hear covers and you're like, "Of course!" That's what I thought when I first heard Escort's version of this classic St. Vincent track, which premiered on Stereogum. St. Vincent has always flirted with disco, though she usually buried it under layers of art and guitar sounds, so obviously a song of hers would work as an all-out disco jam. —Jesse David Fox (@JesseDavidFox)

Flying Lotus featuring Kendrick Lamar, "Never Catch Me"
Kendrick Lamar and Flying Lotus are a natural pairing: They're both from L.A., and they share a certain heavy-heartedness and acceptance of death. (Hell, the track is off an album called You're Dead!, which comes out today.) Over a jazzy and frantic beat, Lamar kills it because that's what he does, and that's why Lotus called him a "mad genius" and the "best rapper out there." —JDF
Nick Jonas featuring Angel Haze, "Numb"
I feel weird listening to Nick Jonas in 2014. I didn't listen to him when he was a "brother," part of the infamous Jonas Brothers in 2007, so why should I start now? But this Nick Jonas, the one who most recently was photographed having the body of a young Mark Wahlberg, is making music that isn't completely awful. Jealous is undeniable pop, thumping along as Jonas hits his notes. His latest, "Numb," has him delving into R&B, with the help of a verse from Angel Haze. Close your eyes, and he might as well be Chris Brown. (But with a better 'tude.) —LW
Minus the Bear, "Invented Memory"
Minus the Bear's latest album Lost Loves features a slew of previously unreleased tracks, all recorded over the course of the last half-dozen or so years. The album has some of the traditional MTB fare ("Electric Rainbow"), but as heard in the soapy synths and whiny guitars of "Invented Memory," it also includes some fresh ideas. —SFG
Sun Kil Moon, "War on Drugs: Suck My Cock"
The song very literally walks you through the story, basically: Sun Kil Moon (a.k.a. Mark Kozelek) was playing a festival and felt War on Drugs' loud set was disturbing his. He made some jokes onstage and then made some more on the internet, and it has all led up to this song. You don't see many indie-folk acts recording all-out diss tracks, which makes "War on Drugs: Suck My Cock" such a compelling listen. —JDF
TV on the Radio, "Careful You"
"Careful You" kind of sounds like an R&B ballad, but also like the Knife, but also like the soundtrack to two hipster ghouls have ghost sex. What I'm trying to say is TV on the Radio has a new album coming out on November 18, and that's exciting. —JDF
Elle Varner, "Fuck It All"
Elle Varner's "Don't Wanna Dance," a depressing dance song, is so good, and now "Fuck It All," the cheating-husband song, is so good. The hook is just "Fuck It All" on repeat, and guess what happens at the end? Let's just say that he won't get away with it this time. —LW
Jessie Ware, "Pieces"
I want this album so much that I wish the Revolutionary War never happened, just so I could get the album when it was released in the U.K. yesterday. Jessie wrote "Pieces" with Sam Smith collaborator Jimmy Napes, so if everything goes right, here is the "Stay With Me" of the fall. —MJ
Weezer, "Ain't Got Nobody"
Weezer's new album, Everything Will Be Alright, comes out today. Is it a return to form? Who even knows anymore? This song is very good, regardless. It's catchy as hell. The vocals sound a lot like a Weezer song. Listen to it.  —JDF