Breaking Bad Composer to Score Better Call Saul
It's getting more <em>Breaking Bad</em>&ndash;like by the day.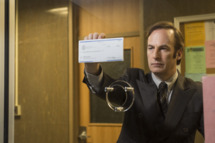 Better Call Saul is getting more Breaking Bad–like by the day: First we got Mike Ehrmantraut, then we got Vince Gilligan, and now we have learned that Breaking Bad composer Dave Porter (who co-wrote the Junior Brown song that dropped yesterday) will be scoring the spinoff. Porter scored all 62 episodes of BrBa and wrote the theme song. "Dave Porter is an irreplaceable member of the Breaking Bad family, and we're thrilled to have him aboard Better Call Saul," says Gilligan. "He gets right to the heart of every scene, writing a score that resonates perfectly with the story. I can't imagine doing our new show without him." Now we just need those rumored Walt and Jesse cameos to come to fruition and it will be like we never left.