SNL Gets Worst Ratings Ever With Host Bill Hader
He tied with Charlize Theron for the show's worst ratings ever.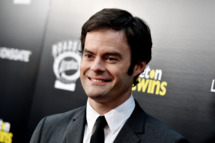 Despite a strong episode (Vulture recapper Joe Berkowitz called it a solid show with "moments of unimpeachable originality"), last night's Bill Hader–hosted SNL episode tied with last season's Charlize Theron episode as the lowest rated episode ever among 18-to-49 year-olds. Maybe they were all out at one of those parties Stefon is always talking about?