Chris Rock, Prince Heading to SNL
Lots of returning cast members!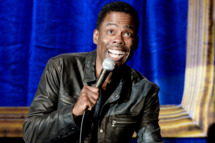 Chris Rock will host Saturday Night Live on November 1 with musical guest Prince, NBC announced today. Rock hosted once before, way back in 1996, and Prince has been a musical guest twice before, in 1981 and in 2006 — certainly long enough ago that both are due for return visits. Rock was an SNL cast member from 1990–93, which makes him the third alum to host so far this season. Is it time to make an alumni-host wish list? Oh, probably.