Girls EP Jenni Konner on 'Horrible' Women and That Wig Scene from How to Get Away With Murder
"I'm in!"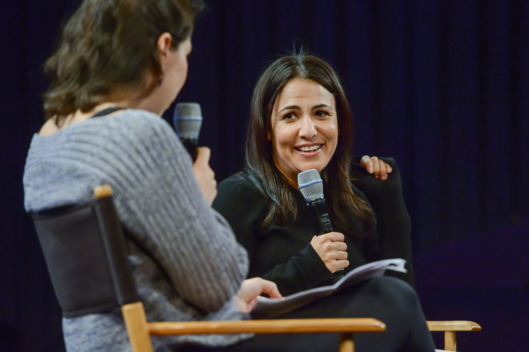 On Thursday night, Girls co-showrunner Jenni Konner sat down with Slate's Willa Paskin as part of the New York Television Festival at the SVA Theater. Konner talked about working with Lena Dunham on Girls (they've pretty much mapped out the fifth season) and also revisited some familiar touchstones, like the "rage spiral" she went into earlier this year because of Emily Gould. "I just went insane," said Konner when the Emily Gould articles happened early this summer. "I just like couldn't get off of Twitter. It was like, 'I guess this is where I live now — talking about Emily Gould on Twitter.'"
She also talked about the moment when a "journalist" (she put that in air quotes) at the Television Critics Association press tour asked her about the show's nudity earlier this year: "I don't think you could even tell in the transcript how fucking mad he sounded. He sounded so enraged about her nudity, and I was just like, 'I can't.' I was like, 'I'm on a juice cleanse because the Golden Globes are coming up, and I am in a very bad mood.'" As for future questions about Lena Dunham on nudity, her advice is simple: "Google it."
Overall, though, Konner believes that we're living in a good moment when women get to be terrible on television. She's already a fan of How to Get Away with Murder after that Viola Davis scene: "It's brand new, but when Viola Davis took off her wig and makeup I was like, 'I'm in!'" She finds the whole notion of likability unrealistic and "kind of silly" and hopes we're past it. "The fact that [The Comeback] is coming back, to me, is like, 'Yay, we are all going to be okay! Women can be horrible!'"