Larry David and Jennifer Lawrence Probably Won't Become an Item
David responded to her "below the belt" feelings for him.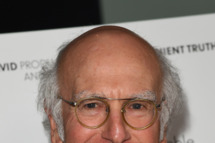 Jennifer Lawrence revealed her love of Larry David in a companion piece to this month's Vanity Fair cover story, saying, "I'm in love with him, and I have been for a really long time. I worship Woody Allen, but I don't feel it below the belt the way I do for Larry David." Thankfully Allen hasn't weighed in, but David took the time to respond to Lawrence's comments during a conversation with David Remnick at the New Yorker Festival yesterday, saying, "Smart kid. It's a shame that I'm about 40 years older than she is." He went on: "Maybe she's referring to her knees. I don't think I could do it. On one hand it's very flattering and on another hand, it's kind of a shame — in terms of timing. I'd have fun watching the reality show of it, though." As would we.