Marvel Announces Gigantic Film Lineup Including Black Panther, Captain Marvel, and Avengers Sequels
Here's the massive, revealing lineup.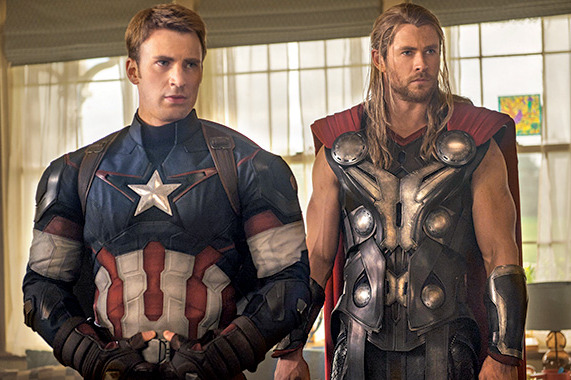 Warners Bros. and DC may have spilled their Justice League plans on an anodyne conference call with investors, but Marvel has a flair for pomp and circumstance, and today Marvel Studios head Kevin Feige greeted press and fans at a massive event at the El Capitan in Los Angeles to unveil its coming superhero-movie lineup to gasps and cheers. Marvel had played its future plans close to the vest at Comic-Con this past summer, but after today, we know the hit-making studio's plans until summer 2019.
First up will be Captain America: Civil War, coming May 6, 2016 and adding Robert Downey Jr. to the mix. (Both he and Chris Evans made a brief appearance at the event; they also figured heavily into a short scene from next summer's Avengers: Age of Ultron shown at the event.) That will be followed on November 4, 2016 by Doctor Strange, though Feige didn't initially confirm rumors that Benedict Cumberbatch would talk the role: "If it were confirmed, we would have announced it today." After that comes Guardians of the Galaxy 2, arriving May 5, 2017, earlier than had been previously announced.

And that's when the big reveals really started to come. Feige announced that Thor: Ragnarok would take the July 28, 2017 date, and that its world-ending subtitle implied major changes for the Marvel Cinematic Universe. Coming in November 23 of that year is Black Panther, starring Get On Up standout Chadwick Boseman, with new heroes to come on July 6, 2016, with Captain Marvel and Inhumans on November 2, 2018. Spread amongst those fresh faces will be Avengers: Infinity War Part 1 in May 4, 2018, and Part 2 in May 3, 2019. That's a whole lotta heroes! More to come soon ...