Mark Ruffalo Isn't Sure Which New Marvel Films He'll Be Making
"I'm still waiting to hear how many they want me for!"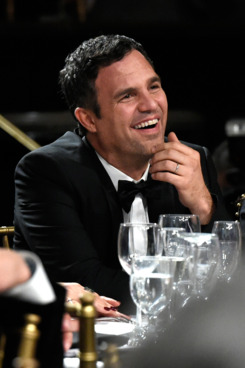 Earlier this week, Marvel Studios announced a slew of new films — including third and fourth installments of the Avengers franchise — that are scheduled for release from now through 2019. Still, without a stand-alone Hulk movie on the slate, fans wondered how much Bruce Banner they had to look forward to ... and as it happens, his portrayer is wondering the same thing. "We haven't really gotten into the deals of that; I'm still waiting to hear how many they want me for!" Ruffalo told Vulture on Thursday at the BAFTA Britannia Awards in Los Angeles. The actor, who received the Britannia Humanitarian Award for his nonprofit Water Defense, likened the wait-and-see contract-negotiation element to waiting to find out if your TV show gets picked up for another season. "It's like doing a TV show, but in a movie," he said. According to Marvel Studios boss Kevin Feige, though, fans needn't worry if they'll see Ruffalo — only when. "I wouldn't say Hulk is absent from the timeline," Feige told reporters Tuesday. "I'd say Hulk is going to appear in many of those movies, particularly all the Avengers movies," and the newest of those, the Hulk-heavy Avengers: Age of Ultron, arrives next May.