Metallica Has Booked a Weeklong Residency on The Late Late Show
Craig Ferguson's last show will be sometime in December.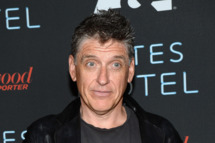 Craig Ferguson's last night as host of The Late Late Show takes place sometime in December — the date is still TBA — and he intends to go out with a bang, not a whimper. Rolling Stone reports that Craig has booked Metallica for a week of shows celebrate the ten-year-anniversary reissue of their documentary Some Kind of Monster — but mostly to celebrate Craig. "What better way to celebrate Craig's awesome tenure at CBS than to come and shake the rafters for a whole week," said Metallica's Lars Ulrich. "Nothing to sell, nothing to promote (except a reissue DVD) ... purely hanging at Craig's personal request. Bring it!"