Ouija Scares Up Teens to Take the Weekend Box Office Over John Wick
Boo.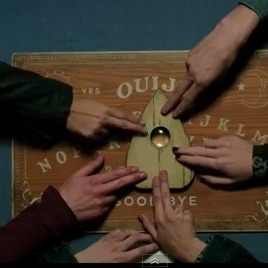 The Hasbro-inspired horror film Ouija easily recouped its $5 million production costs with a clever Snapchat marketing campaign to bring in $20 million over the weekend. It turns out Ouija was the perfect teen date-night movie the weekend before Halloween: About 68 percent of the audience were under 21, and over 60 percent were female. Keanu Reeves's violent-but-beautiful revenge flick, John Wick, came in second with $14.1 million. Last weekend's box-office winner Fury dropped about 45 percent to take third place with $13 million. Rounding out the top five were Gone Girl and The Book of Life with $11.1 million and $9.8 million respectively.
Birdman and Dear White People continued to do well in expanded — albeit still limited — release with $1.4 and and $1.3 million. Laura Poitras's insider account of Edward Snowden, Citizenfour, debuted in just five theaters with $125,000. Keira Knightley's Laggies also did a respectable $78,500 over five theaters.