Patrick Modiano Wins Nobel Prize for Literature
The Frenchman is the author of <em>Missing Person</em>.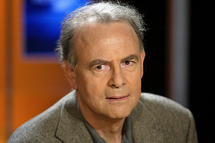 Your newest winner of the Nobel Prize for Literature is French novelist Patrick Modiano. He's not especially well-known outside of France, but in the words of the Nobel committee, Modiano earned the prize "for the art of memory with which he has evoked the most ungraspable human destinies and uncovered the life-world of the occupation." Last year's winner was Alice Munro, whom you probably like more.