Rush Hour Might Be a CBS TV Show
No Jackie Chan or Chris Tucker, though.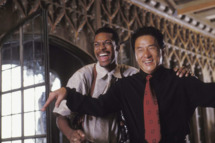 Nineties nostalgia! What is it good for? Absolutely everything. CBS has given a pilot order to a TV version of Rush Hour produced by Scrubs' Bill Lawrence. Jackie Chan and Chris Tucker won't star, as they'll be too busy answering questions about what this show means for the rumored Rush Hour 4.