S Club 7 Is Reuniting for the First Time in More Than a Decade
But has Jo still got the flow?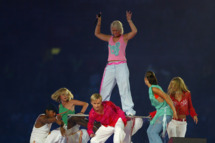 There ain't no party like an S Club 7 reunion party: According to the BBC, the beloved '90s Brit pop band will reunite for the BBC's Children in Need benefit show on November 14, marking the first time that all seven members have performed together in more than a decade (even though it feels like yesterday in our hearts). "This is going to be the mega S Club party of all time," the band said in a statement to the BBC. We can't wait to see Bradley sing and Rachel do her thing. But has Jo still got the flow? Find out on November 14!