We Are Getting a Purge 3
Start barricading those doors!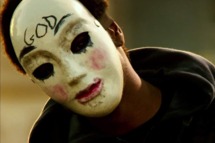 Start barricading those doors: After The Purge 2's massive opening weekend, it seemed only inevitable that they would go in for the threequel. Now writer and director James DeMonaco confirms that another night of no-holds-barred lawlessness will be hitting theaters. "I never imagined that The Purge would become the phenomenon it has become, and I am thrilled to continue my collaboration with Blumhouse, Sebastien Lemercier, Platinum Dunes and the great team at Universal in building The Purge into a worldwide franchise," said DeMonaco in a statement. Now for the most important question: How are they going to stealthily slot the number three into the film's title? The PURG3, we guess?