18 Movies to See (or Not to See) This Thanksgiving
You can't stay inside the entire weekend.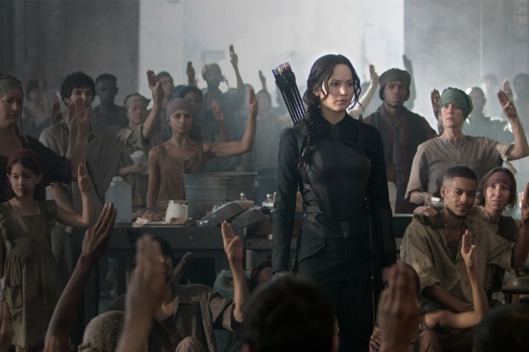 The holiday season kicks into full gear tomorrow with Thanksgiving. That means food, family, and awkward conversations about why you haven't visited your cousins in so long. So why not avoid talk altogether and go to the movies? Here's a list of which films are out now and what our critics have said about them.
The Imitation Game
Of this WWII drama that stars Benedict Cumberbatch, the internet's boyfriend, as Alan Turing, David Edelstein wrote: "The Imitation Game is a highly simplified version of the highly complex life of proto-computer genius, World War II code breaker, and gay martyr Alan Turing — but even with all its elisions and distortions it tells a cracking good story."
The Babadook
This Australian horror movie with an exorcism twist involves a widowed mother, her 7-year-old son, and a demon from a pop-up book who may or may not be real. Edelstein called it "phenomenally scary" with "oodles of ghoulish images that feel as if they've leapt from the hearts of horror and fantasy buffs," and said it's "in the running with Boyhood as my favorite movie of 2014."
Beyond the Lights
Of this romantic drama with a troubled pop-star finding her hero cop, Bilge Ebiri wrote: "As the ads remind us, [director Gina Prince-Bythewood] also gave us 2000's unforgettable Love & Basketball — another rare romantic drama released in a sea of rom-coms and melodramas. Watching Beyond the Lights, it feels as if an old friend has reentered the room."
The Theory of Everything
Of the other film this season about a British genius fighting life's hardships (here, Stephen Hawking), Edelstein wrote: "There's no doubt that [Eddie] Redmayne is working from 20/20 hindsight. But the way he fuses past and future makes this a triumph of sympathetic imagination."
Horrible Bosses 2
Of the sequel to the 2011 comedy hit, Ebiri wrote, "It's not really about bosses or office politics. Its only allegiance seems to be to the law of the sequel: It puts the same characters into a vaguely familiar situation, with diminishing, tepid returns. They should have just called it 2."
The Hunger Games: Mockingjay Part I
Of the penultimate film in the YA dystopian franchise, Edelstein wrote: "Seriously, stuff this bleak used to be in German or Japanese, but now it's lapped up by American kids who've finally gotten the message that whatever's coming isn't good."
Penguins of Madagascar
Of the latest addition to Dreamworks's animated animal franchise, Ebiri wrote, "There's actually something refreshing about an animated film these days that doesn't try to pull your heartstrings, that doesn't put you in the position of having to determine if it has earned its emotions or merely manipulated them. All Penguins of Madagascar wants to do is make you laugh at its silliness. It succeeds."
Dumb and Dumber To
Of the sequel to the two-decade-old Farrelly Brothers movie, Edelstein wrote, "The script could have used another draft or two. Harry and Lloyd's level of dumb and dumbness keeps shifting; sometimes they sound like sophisticates camping it up — unfunnily. The old gags aren't repeated, but the Farrellys constantly invoke them, using their first film as an ongoing reference point."
A Girl Walks Home Alone at Night
Of the Iranian import involving vampires, Ebiri wrote: "But dear lord, is this movie gorgeous. Whether she's framing a static landscape or a close-up of someone gyrating to some infectious bit of Farsi pop, Amirpour invests each shot of her film with precision and wonder. There's a bit of Eraserhead in here, and some early Jim Jarmusch: The story may be spare and familiar, but the characters' submersion invests each moment with an oblique mystery."
Whiplash
Of the electric indie about a young, ambitious jazz drummer and his tyrannical instructor, Edelstein wrote: "As a go-for-it music movie, Whiplash is just about peerless. The fear is contagious, but so is the jazz vibe: When Andrew snatches up his sticks and the band launches into a standard — say, Hank Levy's "Whiplash" — it's hard not to smile, judder, and sway." 
Interstellar
Of Christopher Nolan's latest heady blockbuster, Edelstein wrote: "The mix of wonky physics, mysticism, and genetically modified corn is so clunky it's … fabulous."
Big Hero 6
Of the first major collaboration between Marvel and Disney Animation, Ebiri wrote: "In its broad strokes, Big Hero 6 has a plot that's mostly indistinguishable from a Saturday-morning cartoon. It's fun, action-packed, and adorable. The devil is in the details with this sort of thing, and the film's ability to patiently work little moments of slapstick is endearing." 
Foxcatcher
Of the Steve Carrell–Channing Tatum–Mark Ruffalo wrestling movie, Edelstein wrote: "Foxcatcher has wowed a lot of critics and festival audiences. The O word comes up regularly vis-à-vis Carell. The acclaim is easy to understand. The movie's take at times is fascinating. But it's basically one long, sick joke played at half speed. It's a ponderous, sick joke."
John Wick
Of Keanu Reeves's entry in the man-with-a-special-set-of-skills-kills-everybody genre, Ebiri wrote: "John Wick is a violent, violent, violent film, but its artful splatter is miles away from the brutality of Taken or the gleeful gore ofThe Equalizer. It's a beautiful coffee-table action movie."
Rosewater
Of Jon Stewart's directorial debut about a journalist imprisoned in Iran, Edelstein wrote: "However much we sympathize, innocent people don't make the most dramatically complex protagonists, and Rosewater might have been even richer if its focus were more on its title character — a man who ferociously asserts the righteousness of what he does while knowing in his heart that he has become less than human. But the film is still impressive."
St. Vincent
Of the film in which Bill Murray plays  a bad babysitter, Ebiri wrote: "It's not just the film's broad strokes that feel programmed, it's the small details as well, right down to the calculatedly offbeat dialogue … But the film is sincere, and doesn't even seem to mind that it's telegraphing everything well ahead of time." 
Birdman
Of this meta Michael Keaton comeback vehicle, Edelstein wrote: "Birdman is the very definition of a tour de force, and Iñárritu's overheated technique meshes perfectly with the (enjoyable) overacting — the performers know this is a theatrical exercise and obviously relish the chance to Do It Big. But what comes out of the characters' mouths is not so fresh."
Nightcrawler
Of this film involving an immoral (possibly sociopathic) tabloid reporter, Edelstein wrote: "If [Jake] Gyllenhaal blinks in the movie, I missed it. Super-size peepers fixed on his prey, he creeps towards wrecked cars and dead bodies like a ghoul on the verge of drooling and dropping to all fours; with the yellow moon rising in back of him, he looks ready to howl."