3-Sentence Reviews: Picasso, Clemente, and Murakami
Rapid-response criticism and Pablo's enormous penis.

"Picasso & Jacqueline: The Evolution of Style"
Pace Gallery, 534 W. 25th St.
Through January 10, 2015
With more than 140 works on exhibit, all created in the last 20 years of his life, this is an immersion into Picasso's obsession with the last woman (presumably) in his life, Jacqueline, a noble presence whom he cast in his famous Delacroix-inspired Women of Algiers series and more than a few odalisques. I love Picasso's last works; I think there's an argument to be made that Picasso is one of the best painters of the 1960s. Too bad this show is so overhung and chaotic that it's almost impossible to focus on anything at all. 
"Picasso & the Camera"
Gagosian Gallery, 522 W. 21st St.
Through January 2, 2015
In four visits to this wonderful retrospective — another major Picasso show at Gagosian and curated by his biographer John Richardson — I only looked at the painting, relishing the chance to see all this post-Cubist work that academia tells us we're not supposed to like. I love it; you will, too. Richardson once said at a Cooper Union panel that Picasso had "an enormous penis," and two very early self-portrait photos here seem to confirm that.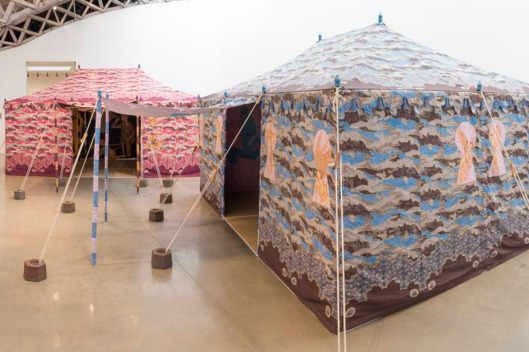 Francesco Clemente: "Two Tents"
Mary Boone Gallery, 541 W. 24th St.
Through December 20
I haven't thought about this 1980s sensation much since the 1980s, and while this show isn't a comeback exactly, it does find Clemente bringing the full quiver of his painterly gifts, gorgeous color, and washy touch in two full-size painted nomadic tents set up in the gallery. We walk in and are whisked away to other fantasylands, realities of life, and ways of painting. All of which made me want to turn over a new leaf and wake up to the monsoons in Jodhpur.
Takashi Murakami: "In the Land of the Dead, Stepping on the Tail of the Rainbow"
Gagosian Gallery, 555 W. 24th St.
Through January 17, 2015
After thinking that he'd all but run out of painterly gas a number of years ago, seeing Takashi Murakami's current show (at Gagosian's giant Niketown-like 24th Street space) take shape over the last few months on Instagram made me totally predisposed to liking it — seeing hundreds of his assistants working diligently 'round the clock, doing something that it seemed only a Japanese artist could do in terms of labor, verisimilitude, post-pop, and wackiness. This show is madly ambitious and totally impressive in terms of all-out drive, but it left me with no internal juice whatsoever and only the feeling of an artist going at top speed in first gear — I left wowed but empty.