Aaron Sorkin's Steve Jobs Biopic Is Back On
After Sony dropped it last week.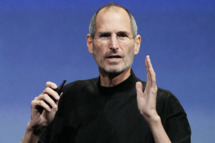 Last week, it felt like all hope was lost for Aaron Sorkin's Steve Jobs movie, with Sony abandoning the project. It appears Sony's trash is Universal's treasure. Well, it's a modestly budgeted treasure, as producers agreed to pay $30 million for the Danny Boyle–directed biopic, according to The Hollywood Reporter. That might seems like a lot, but actually, it barely covers the mock turtlenecks.