10 Best New Songs of the Week
TV on the Radio, Charli XCX, and Willow Smith.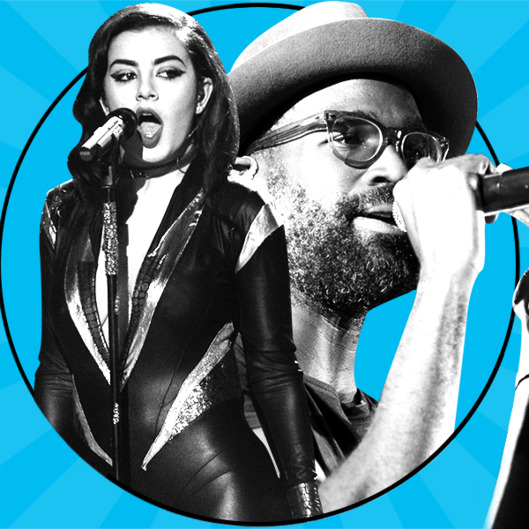 Every week, members of the Vulture staff will highlight their favorite new songs. They might be loud, quiet, long, short, dance-y, rawkin', hip, square, rap, punk, jazz, some sort of jazz-punk-rap fusion — whatever works for the given person in that given week. Read our picks below, and please tell us yours in the comments.
A$AP Ferg, "Doe-Active"
I first heard this song when its producer, Stelios Phili, emailed me, saying it was right up my alley. Usually unsolicited suggestions result in some rough stuff, but, God, was he right. I like minimal, Yeezus-y beats and rappers being sillyheads. Ferg is real silly here. How silly is he?! So silly that he spends 15 seconds shouting at Adam Levine. —Jesse David Fox (@JesseDavidFox) 
Charli XCX, "Gold Coins"
In what seems like a sea of petite brunette pop starlets this year, Charli XCX stands out by riding the wave of '90s nostalgia. This new song from her upcoming album, Sucker, feels like a forgotten track that played at the end of a teen rom-com from the turn of the millennium. —Marcus Jones (@MJinMD)
Chumped, "Old and Tired"
I spent the week since the stream of Chumped's Teenage Retirement went online wondering if it is my favorite album of the year. I think it may well be! Angsty as hell, it's wall-to-wall great songs about early/mid-20s malaise. The star is, of course, the band's lead singer, Anika Pyle, whose voice is a compelling mix of powerful and deadpan and full of yearning. It's hard to pick a standout track, but I'll go with the album's closer, "Old and Tired." Mix a little Weezer, a lot of turn-of-the-Willennium emo, and (in my opinion) a tiny bit of the musical Rent, and you're left with perfect "holding your iPhone like it's a mike and shouting along" music. —JDF 
Giraffage, "Chocolate"
Damn, this song is pleasant. It sounds like the soundtrack of a video game about a polar bear who just drifts lazily down an icy, yet calm, river. Periodically, fish jump into her mouth, and she eats them clean, pulling out the bones (Heathcliff-style). —JDF 
Whitney Houston, "Greatest Love of All (Live from That's What Friends Are For: Arista Records 15th Anniversary Concert)"
It's nearly impossible to pick a "best song" from the new Whitney Houston Live compilation because, unsurprisingly, every song is good. If anything, it's a reminder of what a (live!) powerhouse Houston was and what a diva-size hole she left in her wake. Start with "I'm Your Baby Tonight" and end on "The Star Spangled Banner." Anticipate tears. —Lindsey Weber (@LindseyWeber)
Tobias Jesso Jr., "Hollywood"
Sometimes you just never can predict what is going to be hip. Tobias Jesso Jr. sounds so much like Billy Joel. I'm not going to pretend there are lots of cooler, darker things at work here because it would be a lie. This song sounds like a Billy Joel song. —JDF 
Jamie Lidell, "Run Away"
An unexpectedly awesome highlight off the expanded Grand Theft Auto V soundtrack (there were 162 additional songs), "Run Away" sees Jamie Lidell shelve his soulful stylings for thumping OG trap beats. Complete with Ying Yang Twins–worthy whispers and sing-song xylophone notes, the song reads like a playful prelude to grand larceny. —Lori Keong (@ljkeong)

NONI, "Blackbird"
Written by The-Dream and sung by actress Gugu Mbatha-Raw, the songs performed by fictional pop star NONI in Beyond the Lights reflect her evolution from record-label puppet to "blackbird," or an artist defined by the Nina Simone song she first sang as a child. This version of "Blackbird" happens to be as good of a song outside of the film as it is within. —LW 
Willow Smith featuring SZA, "9"
Don't be quick to dismiss Willow Smith because you don't get her. While yesterday's T Magazine piece had her spouting wisdoms that may have flown right over your head ("Because living"), she continues to gracefully  drop dreamy songs that don't need much heavy interpretation. "9" has Willow sounding like a baby Rihanna. The song features an ambient beat that pulses under the matching BFF vocals from her and SZA: "Going down the PCH, I'm going to get a smoothie / Never had a problem, but I know that you gon' do this / 'Cause you're the smoothest." —LW
TV on the Radio, "Test Pilot"
Have you guys seen Rachel Getting Married? Remember this scene, when Tunde Adebimpe sings Neil Young at the altar and you cried forever and ever? The point is, I love TV on the Radio's rocking/funky/experimental stuff as much as the next guy in Brooklyn, but oooooh, boy, when they slow the tempo and sing tender and/or romantic things. "Test Pilot" is beautiful. You can swim in that voice. —JDF