Duck Dynasty Is Being Turned Into a Musical
And some Broadway producers aren't happy about it.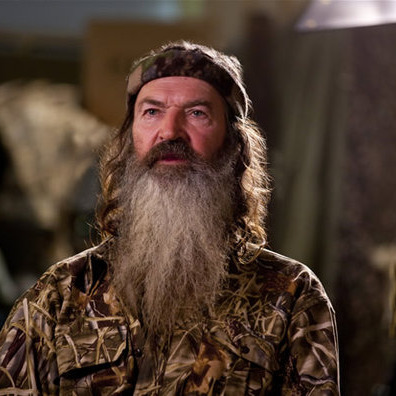 A Broadway-style musical about the family on Duck Dynasty sounds like an SNL skit, but according to the New York Times, it's actually happening. In The Duck Commander Family Musical, actors will portray the family's rags-to-riches tale, as described in the 2012 book by Willie and Korie Robertson. The show is set to open in February at Las Vegas's Rio hotel and casino, so the whole thing makes a bit more sense. However, many on Broadway are not happy that one of their own — Michael David, the producer behind Jersey Boys — is working with a guy who A&E briefly suspended last year for comparing homosexuality to bestiality.
David said he was offended by patriarch Phil Robertson's remarks, but he was already involved in the project at the time. The incident will be addressed in the show, which "is expected to feature video of the real Robertsons and duck hunting, interspersed among family anecdotes and a 14-song score that mixes country, blues and show tunes," according to the Times. The production will probably open with a number titled "Faith, Food, and Family."