Ex-NBC Employee Claims He Spent Years Paying Women Off for Bill Cosby
And standing guard while he "interviewed" aspiring actresses.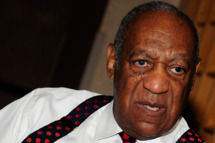 Frank Scotti, a 90-year-old former employee of NBC, says he served as a go-between for Bill Cosby and various women he was involved with. Scotti, who worked as a facilities manager where The Cosby Show was shot, told the New York Daily News he delivered monthly payouts to eight different women from 1989 to 1990. "I did a lot of crazy things for him," Scotti said. "He was covering himself by having my name on it. It was a coverup. I realized it later." Scotti also claims that Cosby had an "arrangement" with a modeling company that delivered aspiring hopefuls as young as 16 for "interviews" in Cosby's dressing room, with Scotti standing guard outside. Scotti also said that, after years of protecting Cosby, the comedian eventually forced him out of his job.