George Lucas's Museum of Narrative Art Looks Ridiculous
It's a bad mountain, not a bad spaceship.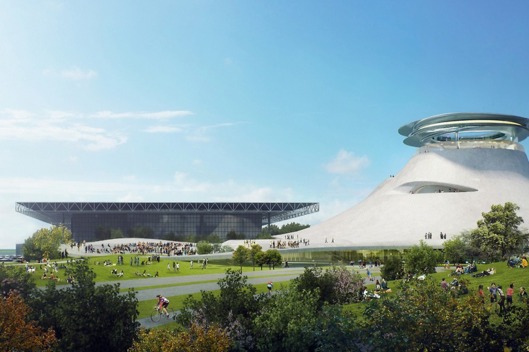 Propose a large, white, disclike building and someone will always call it a "spaceship." Apple's planned headquarters, the renovated Soldier Field, the Beijing Opera House, and almost anything by Zaha Hadid or Santiago Calatrava have all reminded scoffers of a nonexistent typology, the galactic passenger vessel. In the case of the Museum of Narrative Art on Chicago's lakefront, the nickname makes more sense, since the man who would fund, build, and fill it with his personal collection is George Lucas, the emperor of Star Wars. Actually, the design that Lucas commissioned from the Beijing-based MAD Architects is utterly earthbound, a gooey, mountainous slug of a building with two squinty windows and a silvery halo, making it look like a sainted Jabba the Hut.
Chicago mayor Rahm Emanuel fought hard to wrest Lucas's museum from San Francisco, offering him a highly visible 17-acre site right next to Soldier Field. He may come to regret his victory. Lucas's collection — which, according to the Chicago Tribune, "includes paintings by Norman Rockwell and other realist artists, movie memorabilia including "Star Wars" objects and digital art" — seems awfully thin for a museum twice the size of the new Whitney. Worse, the design, by MAD founder Ma Yansong, oozes across the site, swallowing land, looming over the shoreline and sneering at Chicago's architectural heritage. In a statement that grandly invokes Frank Lloyd Wright and Mies van der Rohe, Ma claims that his building "explores the relationship between nature and the urban environment," blurring "the line between structure and landscape." Oh, please.
It's true that Wright imagined capping Sugarloaf Mountain in Maryland with the Gordon Strong Automobile Objective, a planetarium wrapped in a spiraling car ramp that fortunately remained unbuilt. But that was a rare instance in which he used architecture to dominate the land. Usually, he preferred to embed his buildings into the sides of hills, letting nature enfold and inform his designs. Ma, on the other hand, has plunked this peak down where nature has seen fit to omit them. (Its closest topographical kin is probably Devil's Tower, the Wyoming formation that made an appearance as an alien hangout in his rival Steven Spielberg's Close Encounters of the Third Kind.)
The Lucas Museum would hardly be the first man-made mountain in a flat place. The Danish architect Bjarke Ingels built a quasi-Alpine apartment building and a waste-to-energy plant that doubles as a ski slope, both in vertically challenged Copenhagen. Ma's own Ordos Museum is a metal-wrapped mound in the middle of the Gobi Desert. But none of these ingenious precedents ease the way for a preening structure that treats the park as a pedestal and the skyline as an accessory, all in the name of bold new forms. Maybe Emanuel is right that Chicago's Museum Campus needs another institution to go with the Adler Planetarium, the Shedd Aquarium, and the Field Museum of Natural History. Let's stipulate that the Lucas Museum might be more than an oversize memorabilia case. And perhaps Ma can produce a fresh design that either minimizes or justifies its sprawl. For now, though, Chicagoans can knock themselves out coming up with nicknames for the lumpish building — Space Mountain? The Blancmange? — while they insist on something that makes the pulse quicken instead of the stomach drop.