More Downton Abbey on the Way
Maybe Daisy can finally get a promotion?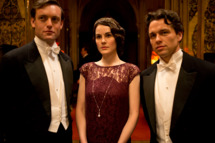 Downton Abbey will return for a sixth season, PBS announced today. Julian Fellowes will be back to write the episodes, but the rest of the cast isn't confirmed yet — so everyone could still die in stupid, arbitrary, or sad ways. The show's fifth season (eight episodes plus a Christmas special) is currently airing in the U.K. and will air in the U.S. starting January 4. Maybe this season Lady Edith can finally find a happy way to live? Or at least a less sad way?