A Whole Bunch of New One Direction Songs Just Leaked
And they're pretty good!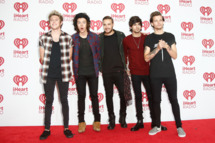 One Direction just released their new single "Ready to Run" yesterday, but literally nobody cares because AHHHHHHHHH THEIR NEW ALBUM JUST LEAKED. Of the new tracks, the clear standout is the Louis-penned "No Control," which features lyrics like "Your taste on my tongue, I don't want to wash away the night before." One Direction fans being what they are, Tumblr is already saying this one's about giving Harry Styles a blow job. Everyone's writing about doing Harry Styles!