The Drummer for AC/DC Allegedly Tried to Have Two Men Killed
The band's former manager called the news "a bit of a shock, but there you go."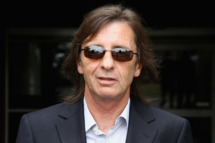 Phil Rudd, who drummed for AC/DC between T.N.T. and Flick of the Switch, was charged in New Zealand court Thursday for trying to hire an assassin. Rudd's motive is unknown, as police won't release the names of the two men he was reportedly trying to have killed, nor the name of the gun for hire. The drummer is currently holed up in his home in Tauranga, so there's no possibility of a jailbreak. Rudd rejoined AC/DC in 1993 before retiring to New Zealand in 2010; the band's former manager told the Daily Mail the news was "a bit of a shock, but there you go."