Taylor Swift on Spotify: 'I'm Not Willing to Contribute My Life's Work to an Experiment'
Her music is never, ever coming back to the streaming service.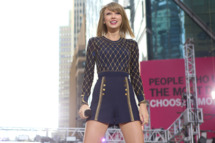 We've been guessing all week why Taylor Swift pulled her music from Spotify, and now here comes the real answer, straight from the artist herself. Unsurprisingly, it comes down to money. Also integrity. But mostly money. "The landscape of the music industry itself is changing so quickly, that everything new, like Spotify, all feels to me a bit like a grand experiment," Swift tells Yahoo. "And I'm not willing to contribute my life's work to an experiment that I don't feel fairly compensates the writers, producers, artists, and creators of this music." It's safe to say that Taylor Swift is never, ever coming back to streaming.