24 Celebrities on the Art They'd Want to Own
Some collect, some paint — just like us!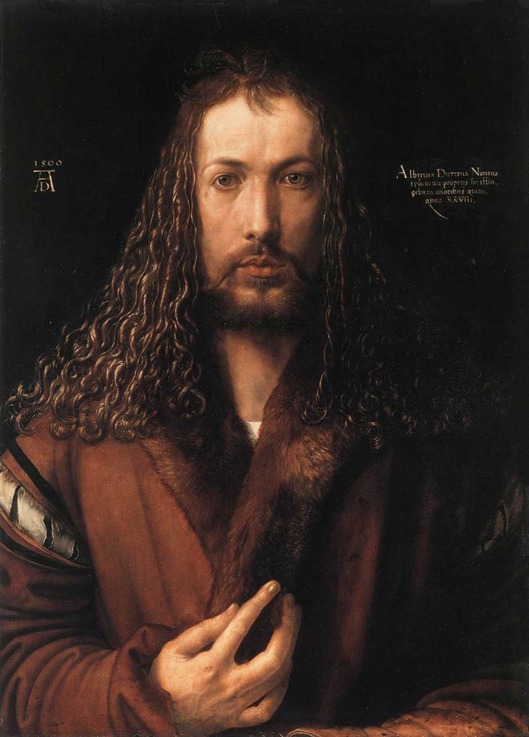 Like many of us, celebrities have an opinion or two when it comes to art. So we asked 24 notable figures from Jeff Koons to Jenny Slate about the works they'd like to buy or borrow from museums, their thoughts on galleries, and the masterpieces they create in secret.
Peter Gallagher (On the Twentieth Century on Broadway)
"I think Edvard Munch's The Scream very accurately captures a sort of inner, intense lament that I think we all, especially nowadays, we all feel. I used it in a tiny little film I made, a two-minute comic short for the Hot Channel. It was about new parents. It opened tight on the painting and then you hear the baby cry."
Jenny Slate
"There's a beautiful painting in the Met of Joan of Arc, and I'd love to be able to look at that as I get ready for my day. Her piercing eyes are captivating. She is strong and fragile with a purpose. I also commission portraits of myself, only full-on oil paintings."
Judah Friedlander (30 Rock)
"Art should be shared, it shouldn't be owned. I wouldn't mind living in the Metropolitan Museum of Art, but I wouldn't want to take anything. I would live on the roof deck, just live outside. In the winter I'd go to the knights in armor exhibit and just sleep on the floor."
Kate Mulgrew (Orange Is the New Black)
"Alec Egan is absolutely going to be the next Basquiat. He paints in impasto, and and he's unlike any other young painter — he's only 30 years old — and he paints with an absolute eye to vision, to color. He's an abstract expressionist of the most unusual stripe. I've bought of lot of Egans, as well as works by other artists, and if you walked into my living room you, would say, 'Oh, I'm in a gallery.' That's the feeling. But you get to sit down and have a lot of drinks."
Melissa George (The Good Wife)
"Sometimes in my life I'm going through a moment, or maybe I have a little extra money, and I like to buy art. And I've been doing that since I was 17. I did a job with Heath Ledger called Roar and I got some money for that, and I literally, instead of saving it, I went to a gallery in Queensland, Australia, and bought two original Charles Blackman pieces. So my art reminds me of moments — like a punctuation point in my life where I did a good job."
Hamish Bowles (Vogue editor at large)
"I have loved Sargent's Madame X from the Met and Giovanni Boldini's Count Robert de Montesquiou from the Musée d'Orsay since I was a child. I think they have such swagger, and drama and the personality of the sitters is so powerful and kind of just sings through the decades."
Tory Burch
"I just think Matisse's pieces are the most beautiful things I have ever seen. I love his color, I love the way he paints. I was an art-history major, so he was one of the people I studied very closely. And he's extremely expensive, so I can dream."
Roger Rees (Elementary, Survivor)
"I don't collect art, but I have lots of found objects I like. I like things that people have held. I like things associated with people. But I don't need grand things."
Laura Osnes (Two-time Tony Nominee)
"The Mona Lisa is actually really anticlimactic. Have you seen it? There's such an expectation and then you're like, Oh, it's really small. But it's so famous."
Jeremy Shamos (Birdman, Nurse Jackie)
"When I was a 15, I was in a movie called Kid Colter, and I spent all the money from it on a Miró print, an aquatint. It was $10,000, and it's the most expensive piece of art I've ever bought. It's actually really big. It was 1985, before he died. I always liked him. Growing up, we used to get Christie's catalogues at my house, so I would look through them and dream. I liked the Mirós, but a lot of them were oil paintings I couldn't afford."
Josh Hamilton (Gracepoint, Louie, and The Real Thing on Broadway)
"I would just like to have one of Modigliani's nudes over my bed. My wife recently said that she wants a picture of a naked woman for our bedroom — a painting, not a pinup or anything. I said, 'Honey, if that's what you want, I will …'"
Jennifer Connelly
"I used to like to paint and draw, but I don't take the time to do it anymore — other than drawing notes for our daughter's lunchbox every morning. Paul [Bettany] and I have done that with all of our kids. We have a collection of them. I have to say, Paul's are much more elaborate than mine usually are."
Alexis Bledel
"I'd never seen Monet's Water Lilies before, but I was shooting in Ohio for Jenny's Wedding, and I saw it at the Cleveland Museum of Art. It's very striking in person, and it's huge, and I was just staring at it for a while. If I could take it home, I'd put it in my living room. You need a big wall for that."
Tony Danza
"My daughter is a senior at Parsons. She's a fine-arts student, a painter. And I've named her new works Gothic Watercolors because they're a little bit macabre. And they're terrific. It's part of her thesis, to graduate."
Sophie von Hasselberg (Billy and Ray, 2015 Untitled Woody Allen Project)
"I am definitely the person who always reads the description as soon as I go into a gallery. l love the historical part. But I find gallery girls hopelessly intimidating. They're so stylish and so thin. And I'm always like, Oh God, I'm not supposed to be in here! But, of course I love it."
Garry Marshall
"I like Rodin — The Thinker. [Puts his fist to his chin like the statue.] Didn't he do that? I saw it when I was in France. But I like Monet. You know why? Because he found art near his house. I like that. I like to shoot in my neighborhood. He just shot out his window, Monet. He thought, Oh, I'll do water lilies! I love Water Lilies, but I like Rodin's statue. I like thinking because that's what I do!"
Natasha Lyonne (Orange Is the New Black)
"Sometimes I doodle. I like making pictures of my friends with — this is gonna sound really stupid, but it's true — I make pictures of them with their boobs, and then it's like us holding hands. I wouldn't call it a medium. I feel like that's a very strong word for the kind of work I'm doing. Ink on paper? It's ink on paper. Oh, it's deeply, deeply intimate work. Sorry! No, it's not a secret. I have no secrets. I play three songs on the piano and I make one drawing over and over again."
Carolyn Murphy (model)
"I paint and sculpt; it's very cathartic. I wouldn't say that I'm up to the standards of having my own show, but you never know."
Jeff Koons
"My kids don't have art in their bedrooms. They have posters, they have their own art. But we don't have the works we've collected there because kids need freedom, they need some places where they can pick something up and throw it. So we keep our collected works in areas of the house where they know that they have to respect them and that it's a responsibility to ensure the protection of these objects for future generations."
Laurie Simmons
"Artists are very unwilling to accept other people as art-makers if they're not certified artists. We're very prickly when people — like John Waters and James Franco — kind of cross over and try to make art. But I have enormous respect for both of them. I think it's open season and anyone can call themselves an artist. I'm totally down with that."
Chuck Close
"You know, old masters are undervalued; contemporary artists are overvalued. So you can actually get a great old master for startlingly low. Vermeer's Maid Servant Pouring Milk at the Stedelijk in Amsterdam may be the greatest painting ever. It's transcendent; you don't know how it happened. It's as if the paint blew onto the canvas by a divine breath of air."
Amy Cappellazzo (art adviser, former chairman at Christie's)
"In his self-portrait, Albrecht Durer makes himself look like a messiah. But if I told you this guy were a pot dealer in Tulum, you'd believe me."
Sarah Thornton (author, Seven Days in the Art World, 33 Artists in 3 Acts)
"I'd love to own Courbet's L'origine du Monde. But that one's gonna reveal me a little too much, maybe. It's an amazing painting, I'm sorry to say. But I don't think that's what you want to illustrate. Just because it came to my head first! It's most covetable. But super private."
Jeffrey Deitch (dealer, curator)
"What the best galleries do is provide a social platform, a clubhouse where there's always someone interesting hanging around whom you want to talk to. I went to the the Sam Falls opening at Karma a few months back, and I recognize this astonishingly beautiful young woman, and it was Emily Ratajkowski — famous for 'Blurred Lines' and Gone Girl — whom I know from Los Angeles. So it was wonderful to see her there, very seriously interested in the art because her father's an artist. That's the kind of mix you get in New York. You Know Diane Martel is a genius director. 'Blurred Lines' is one of the cultural interventions that defines the past year."
Additional reporting by Katie Van Syckle, Jamie Sharpe, Allegra Hobbs, and Kylie Gilbert