Send Mean Holiday Greetings to Friends With Aaron Paul's 'Yo, Bitch!' App
Just in time for Christmas.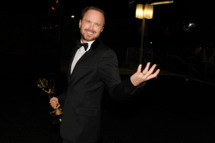 Aaron Paul is an entrepreneur with a vision to change Christmas. (In that minimalist way people are entrepreneurs nowadays, at least.) Last week, he unveiled a semi-rip-off of the Yo app, called YB, a.k.a. Yo, Bitch! It's essentially Paul's way of letting you call your friends "bitch," à la Breaking Bad's Jesse Pinkman. "I'm really just trying to give the public what they want," Paul told Mashable. The app also was updated today — yep, for Christmastime — so you can access a holiday pack (Hanukkah and Kwanzaa also included) that features such inspired greetings as "Feliz Navidad, Bitch!" and "Ho Ho Ho, Bitch!" in William Shatner's voice, and "I'm Santa, Bitch!" If you have an iPhone, you can download the app and ditch your stuffy Christmas cards now. Otherwise, YB for Android should roll out in early 2015.