Birdman Wins Best Feature at the Gotham Awards
<em>Boyhood</em> took home the Audience Award.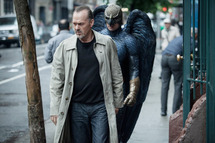 Alejandro González Iñárritu's Birdman was the belle of the ball Monday night at the 2014 Gotham Independent Film Awards, where it nabbed the big award for Best Feature as well as the one for Best Actor (Michael Keaton). The movie beat out such heavyweight contenders as Richard Linklater's Boyhood and Wes Anderson's The Grand Budapest Hotel. Despite having grabbed top honors at the New York Film Critics Circle Awards earlier in the day, Boyhood settled for the Audience Award. Other winners from the night included Julianne Moore with Best Actress for her work in Still Alice; Laura Poitras's Citizenfour with Best Documentary; Steve Carell, Mark Ruffalo, and Channing Tatum with the Jury Award for their ensemble work in Foxcatcher; Ana Lily Amirpour with the Breakthrough Director Award for A Girl Walks Home Alone at Night; and Tessa Thompson with Breakthrough Actor for her turn in Dear White People.