Chris Brown and Karrueche Tran Are Having a Bad Breakup on Instagram
<span>"I refuse to be repeatedly mistreated especially by someone who claims to love me.<span class="Apple-converted-space">"</span></span>
Chris Brown and his longtime off-and-on girlfriend, Karrueche Tran, are having a particularly bad "off" period. In keeping with the times, this fight has taken place on Instagram and has devolved to Brown accusing Tran of seeing Drake behind his back (I mean ... ). It all started when Tran posted an inspirational message: "When something bad happens, you can either let it define you, let it destroy you or let it strengthen you. The choice is yours." There was a long note that went with it, though, where Tran writes, "I refuse to be repeatedly mistreated especially by someone who claims to love me. That's not love."
Tran's caption read: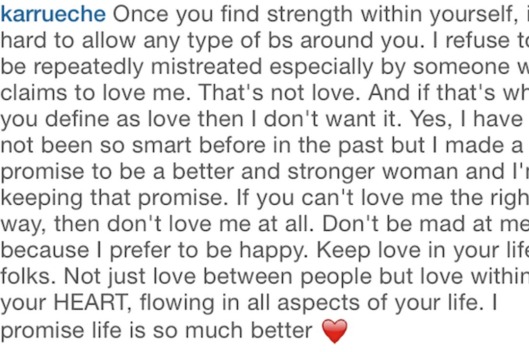 Not one to let things go, Chris Brown wrote a long comment about how Tran supposedly participated in threesomes, had secret dates with Drake, and only visited him in prison once. He has since deleted the comment, but as he should very well know, everything is screen-shot for posterity. EVERYTHING.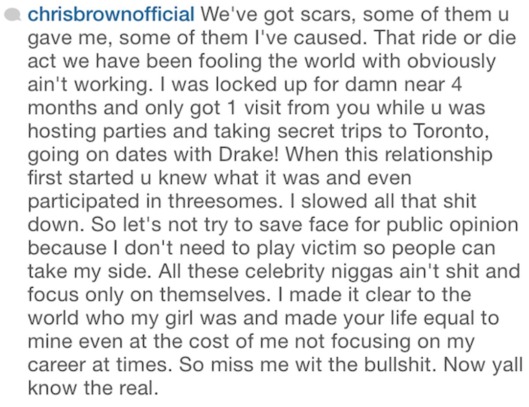 Stay classy, Chris Brown.