Eternal Selfies With Jeanette Hayes
In a 24/7/365 gallery hidden in the Meatpacking District.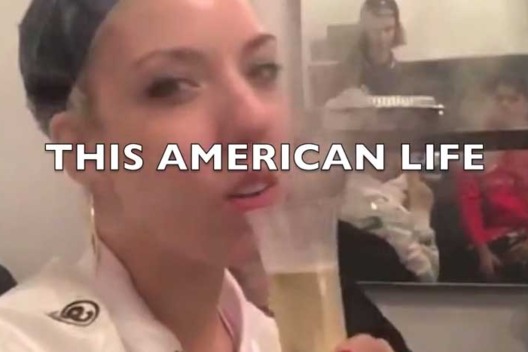 Setting up shop in Chelsea is not the end-all, be-all of gallery locations. And we're not even going to mention the Lower East Side or Bushwick right now. Instead, we direct your gaze to a little stretch of downtown Manhattan, wedged between the ultimate Meatpacking District landmark — the nightclub — at 55 Gansevoort, the only 24/7 gallery in Manhattan (that we know of, at least). It's not an apartment gallery, nor does owner Ellie Rines sleep or live there. But strolling under the industrial arcade that lines the block, blink and you might miss it. Her space, formerly an elevator shaft, is the size of a closet — so it comes as no surprise that Rines has undertaken a rather unconventional approach to the gallery model. "As a dealer, one of the best things I can provide is a new space for an artist to show in. I like the challenges and constraints within 55G, and the idea of having a 24/7 show is both exciting and daunting," she says. Rines took over the space long before the Whitney's move even began. "Nowadays, one of the biggest challenges is not outgrowing my shoes," explains Rines. "The Whitney raises the bar and I am going to do my best to keep it simple — good art, fully visible 24/7, just walk by." So far, Leo Fitzpatrick, Todd Eberle, Dylan Bailey, and Aaron Aujla have all exhibited under Rines's programming perimeters. "If it isn't an opportunity for the artist to show something new and something less commercial or to take a different direction," says Rines, "Forget it."
For her latest show, which opens tomorrow night, Rines has enlisted internet artist sensation Jeanette Hayes to create a video, "a compilation of brief moments fervently recorded over the past three years." The show is entitled "This American Life" — the trailer is exclusively shown here — and Hayes feels it "is a show that is a very true reflection of myself. I'm a hoarder of visuals, whether [they] be magazines, GIFs, IRL experiences, or even just thoughts." In the spirit of Instagram and Vine year-in-review recaps, the ones where your most-liked photos are assembled into a montage, Hayes has compiled three years' worth of material. "It started out because I just needed to do something with all of this information, and it has turned into a ritual. It's a documentation in growth, and I want to continue making these for a long time," says Hayes, "I think the ultimate goal of most artists to one day make a film, so I think of this as practice towards that as well." The 30-minute video will play on a continuous loop in the gallery, of which Hayes says, "I think it's fitting to be showing in such an intimate space."