Here's Where You Can See The Interview on Christmas
In case your Grandma wants to stick it to North Korea.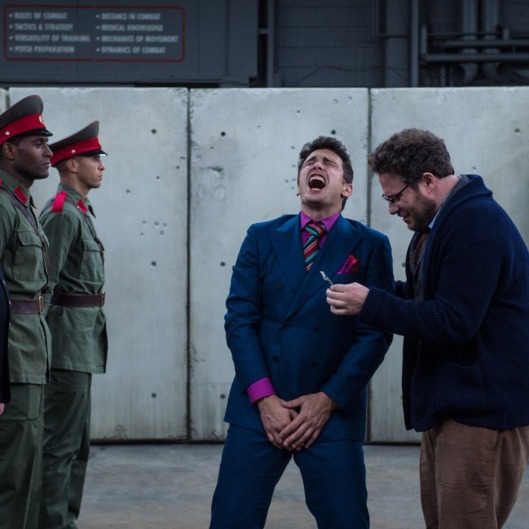 Just like the guy who was born on Christmas, The Interview has risen from the dead, with Sony giving independent theater chains the go-ahead to premiere the film on Christmas Day. The biggest national theater chains are still staying away, which means that your odds of seeing the film vary greatly depending on where you live. If you're in Austin, there are enough screens for your entire extended family to come along. If you're in New York City, you're just going to have to hop on the Metro North. Hey, no one said making a vague political gesture against Kim Jong-un would be easy.
The full list of theaters, via TheWrap, below:
Alabama
Birmingham: The Edge 12

Arizona
Phoenix: Harkins Theatres
Tempe: The Valley Art
Tuscon: Loft Cinema

Arkansas
Little Rock: Riverdale 10

California
Agora Hills: Regency Theatres Agora Hills Stadium 8
Aneheim: UltraLuxe Anaheim Cinemas and Garden Walk
Azusa: Regency Theatres Foothill Cinemas Stadium 10
Bakersfield: Regency Theatres East Hills Mall
City of Commerce: Regency Theatres Commerce 14
Coachella Valley: Cinemas Palme d'Dor
Fontana: Regency Theatres Fontana 8
Grenada Hills: Regency Theatres Grenada Hills 9
Jurupa: Tristone Cinemas Jurupa 14
Los Angeles: Cinefamily
Los Angeles: Crest Westwood
Los Angeles: Los Feliz 3
Los Angeles: Laemmle's North Hollywood 7 (Starting 12/31)
Los Angeles: Regency Theatres Van Nuys Plant 16
Perris: Regency Theatres Perris 10
Riverside: Mission Grove Theaters
Riverside: Regency Theatres University Village 10
San Bernardino: Regency Theatres Sterling 6
Santa Paula: Regency Theatres Santa Paula 7
Thousand Oaks: Regency Theatres Janss Marketplace 9
Westminster: Regency Theatres Westminster 10

Colorado
Fort Collins: The Lyric Cinema Cafe
Littleton: Alamo Drafthouse

Delaware
Lewes: Rehoboth Beach's Movies at Midway
Middletown: Westown Movies
Wilmington: Penn Cinemas Riverfront

Florida
Ft. Lauderdale: Swap-Shop Drive-In
Jacksonville: Sun-Ray Cinema

Georgia
Atlanta: Plaza Theater

Illinois
Champaign: Art Theater Co-Op (Starting 1/2)
Woodridge: Hollywood Blvd. Cinemas

Indiana
Jasper: Jasper 8 Theatres

Kentucky
Paduckah: Maiden Alley Cinema

Louisiana
Chalmette: Chalmette Movies
Shreveport: The Robinson Film Center

Maryland
Baltimore: Eastpoint Center 10

Massachusetts
Cambridge: AppleCinemas

Michigan
Ann Arbor: State Theatre
Kalamazoo: Alamo Drafthouse
Traverse City: The Bijou

Minnesota
Minneapolis: The Film Society of Minneapolis/St. Paul
Minneapolis: St. Anthony Main Theatre

Missouri
Kansas City: Alamo Drafhouse
St. Louis: Chase Park Plaza
St. Louis: MX Movies

New Mexico
Santa Fe: Jean Cocteau Cinema

New York
Huntington: Cinema Arts Centre
Ithaca: Cinemapolis (Starting 1/1)
Mastic: Island Cinemas
Yonkers: Alamo Drafthouse

North Carolina
Roxborough: Palace Pointe

North Dakota
Fargo: Fargo Theatre

Ohio
Cleveland: Tower City Cinemas
Columbus: Gateway Film Center

Oklahoma
Tulsa: Circle Cinema

Oregon
Dallas: Fox Theatre (Starting 1/2)

Pennsylvania
Pittsburgh: Southside Works

Rhode Island
Providence: Cable Car Cinema and Cafe

South Carolina
Charleston: Terrace Theatre
Columbia: The Nickelodeon (Starting 12/26)

Tennessee
Franklin: Franklin Theatre
Nashville: BelCourt Theatre

Texas
Austin: Alamo Lakeline
Austin: Alamo Slaughter
Austin: Alamo South Lamar
Austin: Alamo Ritz
Dallas: Look Cinemas
Dallas-Forth Worth: Alamo Drafthouse
Houston: Alamo Vintage Park
Katy: Alamo Mason Park
Lubbock: Alamo Drafthouse
New Braunfels: Alamo Marketplace
San Antonio: Alamo Park North
San Antonio: Alamo Westlakes
San Antonio: City Base Cinema

Utah
Salt Lake City: Brewvies Cinemas Pub
South Jordan: Megaplex Theatres

Vermont
Burlington: Merrill's Roxy Cinema

Virginia
Abingdon: Cinemall
Ashburn: Alamo Drafthouse

Wisconsin
Fon du Lac: Fon du Lac Theatre
New London: Grand Cinema Theatres

Washington, D.C.
West End Cinema