Friends Countdown: A History of Shows Being Compared to Friends
From <em>Happy Endings</em> to <em>Traffic Light</em>.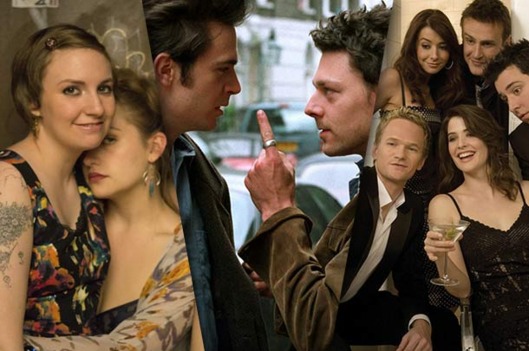 The success of Friends was like capturing lightning in a bottle, as very few sitcoms back then were really focused on young, single people. Now that is the premise of almost every sitcom on television, so there are bound to be plenty of comparisons made between these shows, even if their actual premises really run the gamut from a show about bar patrons to a show about four clueless young women. Here are reviews comparing shows over the last 20 years that resemble Friends, including the huge wave of Friends imitators in 2011.
How I Met Your Mother
"Time will tell if viewers take to this quintet as completely as they did [Friends'] Central Perk crew... but it seems as if How I Met Your Mother is the most legitimate knockoff yet of that youthful-urbanite juggernaut." (Robert Abele, L.A. Weekly, 2005)
Happy Endings
"The largely chemistry-free ensemble of this under-inspired Friends wannabe has exactly two funny standouts: Penny (Casey Wilson) and Max (Adam Pally)." (Matt Roush, TV Guide, 2011)
New Girl
"Like another iconic TV show featuring a group of unlikely roommates living in big, brightly colored apartments (ahem, Friends), New Girl speaks to a targeted generation of up-and-comers looking to make it or break it in the big city, with only their roomie friendships to help them through. The difference is that today, that generation is older — and, I'd argue, more immature." (Agatha Gilmore, Mic, 2012)
The Big Bang Theory
"In fact, the industry term for when stars see their pay packets rise this astronomically is "Friends money". The similarities with the 90s behemoth don't end there – it is the Friends of this generation. With wall-to-wall repeats across Channel 4 and E4, it has reached that familiar point we got to with the Central Perk crew where you end up watching episodes three or four times and still find them funny." (Dan Martin, The Guardian, 2014)
Joey (Duh)
"Deftly written, Joey sets up running gags and delayed payoffs with the precision of the special forces laying mines, much as Friends did. No, exactly as Friends did, and that's a problem. It reminds us that five-sixths of the Dream Team is missing. And where Joey does change, it's abruptly and implausibly." (James Poniewozik, Time, 2004)
Perfect Couples
"The show's first hurdle, however, will be to snatch viewers with a taste for thirtysomething comedy. Before NBC can even dream of reliving the glory days of Friends, the show must beat out its competition. CBS poses a big threat with William Shatner's $#*! My Dad Says, a rookie ratings hit that airs in the exact same timeslot. Perfect Couples also faces off against Fox's American Idol and ABC's Wipeout. However, wedged between Community and The Office, Perfect Couples certainly stands a fighting chance." (Kyla Brewer, TV Tabloid, 2010)
Girls
"Girls is, in every way, the anti-Friends. Whereas the latter was funny and frivolous, the former often sacrifices humor for introspection. These characters wear their desires, their victories, and their defeats. They are raw. Do we ever really see Joey or Phoebe or Rachel stress about money? Do we feel the ache of their failures, or is it all just Central Perk and fountain dancing? On Girls, Hannah wants to be someone. She wants her voice to matter – the characters on Friends just wanted to find love and fun. Those episodes all built to nothing and that was, and is, fine. Every show can't be art, every moment can't mean something. Sometimes we all need a little distraction, not an unkind mirror." (Jason Tabrys, Screenrant, 2014)
Coupling
"Coupling, based on a British hit, clearly wants to be Friends only bolder. But the characters are dislikable, the farce is strained, and the show's mind has just one track. 'Does your penis do all your thinking?' Susan asks Patrick (Colin Ferguson). In this circle of friends, that would make him an intellectual." (Terry Kelleher, People, 2003)
Friends With Better Lives
"Despite the attractive cast, these Friends are a mostly nondescript bunch, so much so it wouldn't be a shock to find that those who initially tune in after the How I Met Your Mother finale ultimately decide that this life experience is best left as a one-night stand." (Brian Lowry, Variety, 2014)
Traffic Light
"Although based on an Israeli show by the same name with original creator Adir Miller serving, along with Bob Fisher, as executive producer, Traffic Light is eminently American. If Friends had a beer-goggled hookup with Men of a Certain Age, something like Traffic Light might be the outcome: A trio of Old College Buddies remain tight into their 30s despite the sort of divergent life choices upon which sitcoms thrive." (Mary McNamara, Los Angeles Times)
Friends With Benefits
"That it opens with the two main characters, Ben (Ryan Hansen) and Sara (Danneel Ackles), having sex could be seen as a comment on Friends, its more innocent predecessor, which took 39 episodes to get Ross and Rachel together. It could also be seen as prudent, since Friends With Benefits isn't likely to have that much time." (Mike Hale, New York Times, 2011)
Mixology
"Is the big-box neo-speakeasy at the center of ABC's forthcoming Mixology the second coming of Central Perk from Friends? Who knows, but the trailer, which was presented with the remainder of the network's new crop of comedies earlier this week, looks like something aliens would come up with if they were trying to infiltrate Earth and were forced to rummage through the Zeitgeist of nightlife blogs and PR e-mails for material." (Hugh Merwin, Grub Street, 2013)
Mad Love
"A group of funny young professionals in New York City is certainly not a groundbreaking premise for a sitcom, but it is does have a pretty good pedigree. Like many other new shows this season, Mad Love has its sights set on successful predecessors like Friends and Seinfeld." (Michael Landweber, Pop Matters, 2011)
Some of My Best Friends
"Starring Jason Bateman (Arrested Development) as Warren, a gay writer living in Greenwich Village, Some of My Best Friends explored the odd couple pairing of him and Frankie, his straight roommate played by Danny Nucci. The show's cast of characters also included Warren's flamboyant best friend, Frankie's dimwitted best friend and Warren's sister. The show was an odd cross between Will & Grace and Friends while failing to be original—or avoid all too familiar stereotypes." (Stacy Lambe, VH1, 2014)