Jared Leto, Will Smith, and Margot Robbie Will Indeed Be in the Suicide Squad Movie
Tom Hardy, Cara Delevigne, and Jai Courtney round out the cast.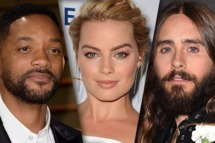 The rumors were true: Jared Leto will play the Joker, alongside Margot Robbie as Harley Quinn, in Warner Bros.' upcoming Suicide Squad movie. They'll be joined by a number of other familiar names, including Will Smith as Deadshot, Tom Hardy as Rick Flagg, and Cara Delevigne as Enchantress. Also, Divergent's Jai Courtney will play Boomerang. Congratulations, Jai, you're about to be as rich as all these other folks.