Judd Apatow Had Some Tweets for Bill Cosby and His Apologists This Weekend
"<span>They should remake the Cosby show with scenes of Dr. Huxtable doing what Cosby has been doing. A perfect show for FX.</span>"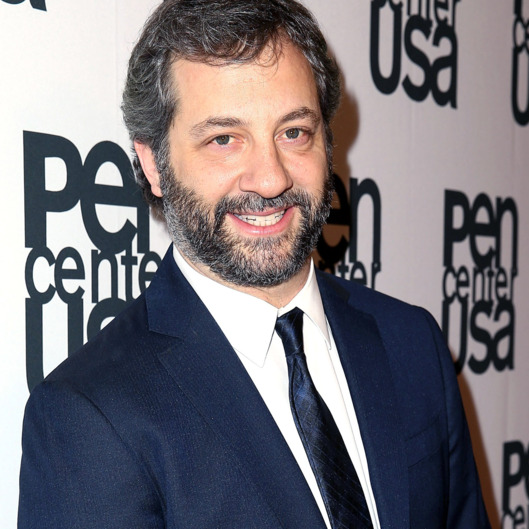 Judd Apatow had caustic words for Bill Cosby and his apologists all weekend. Despite several women accusing Cosby of sexual assault in recent months, lending their names to a list that is nearly two dozen strong, many fans and celebrities have stood by Cosby, touting the innocent-till-proven-guilty mantra, as none of the allegations have yielded any concrete charges. Apatow first took to Twitter on Friday to question Cosby's innocence and call out a couple of Canadian venues that have the contentious comic icon scheduled to perform in 2015. Apatow's annoyance continued through Sunday, when news of Cosby's team of hired private investigators surfaced.
Here are some of the tweets:
so @Centre_Square - are you really going to let Bill Cosby perform on your stage January 7?

— Judd Apatow (@JuddApatow) December 27, 2014
You too @BudGardens Jan 8? Is Cosby only popular in Ontario Canada at this point? Do people still find him delightful after 30 accusers?

— Judd Apatow (@JuddApatow) December 27, 2014
"@mikeandrewb: @JuddApatow @Centre_Square and ur obsession is because...?" I guess it's because guys who rape a lot aren't cool.

— Judd Apatow (@JuddApatow) December 27, 2014
"@woofmachine: @JuddApatow @Centre_Square innocent until Proven". He should speak publicly about how false this all is. 30 alibis.

— Judd Apatow (@JuddApatow) December 27, 2014
"@dcarlin0623641: @JuddApatow old article interesting to read now, http://t.co/irqwmxu8xi" and this is from 2006. 8 years ago.

— Judd Apatow (@JuddApatow) December 27, 2014
.@nvraine @Centre_Square I always wonder why some people try so hard to not believe women who have been assaulted. What is the root of that?

— Judd Apatow (@JuddApatow) December 27, 2014
@cherri_may it is not extortion when most of the accusers do not want anything. These are much older woman who suffered for decades.

— Judd Apatow (@JuddApatow) December 27, 2014
.@thebestshave first of all, your Twitter handle is troubling. Also- I am pretty sure I have had sex with less people than he raped.

— Judd Apatow (@JuddApatow) December 28, 2014
.@EricStambol that kind of attitude will get you 15 followers. Oh- it already did.

— Judd Apatow (@JuddApatow) December 28, 2014
I think one in a Hundred thousand people support Cosby. I am gonna stop responding to them so often. It is just maddening though. So cold.

— Judd Apatow (@JuddApatow) December 28, 2014
.@PageSix they should remake the Cosby show with scenes of Dr. Huxtable doing what Cosby has been doing. A perfect show for FX.

— Judd Apatow (@JuddApatow) December 28, 2014