Fast & Furious 6's Justin Lin Will Direct Star Trek 3
Perfect timing, apparently.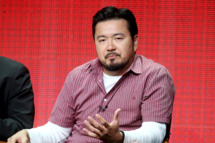 Deadline reports that Fast & Furious director Justin Lin is the latest person tapped to helm Star Trek 3. J.J. Abrams, who manned the first two Star Treks, ditched the third because of his Star Wars gig with Disney; Roberto Orci (a writer on the first two films) was supposed to replace Abrams, but backed out a couple of weeks ago to work as a producer. Lin is often cited as the director who reinvigorated the Fast series — if there's anybody who can make spacecraft look cool while drifting, it's him — and he's also set to direct at least two episodes of True Detective's second season. While other production details for Star Trek 3 are unclear at the moment, Variety points out that Paramount could release the film in 2016 to coincide with the 50th anniversary of the Star Trek TV series.