Lana Del Rey and Courtney Love Will Tour Together Next Year
The friends that tweet about vaginas together stay together.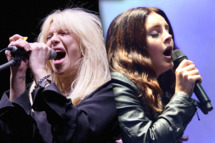 The bond between Courtney Love and Lana Del Rey began with a tweet about vaginas, and now it's blossomed into a full-fledged professional union. Love will join Del Rey on eight stops of the latter's 2015 tour. They'll probably do a duet of "Heart-Shaped Box," but personally, we're more excited to see what type of tour scrapbook these two put together.