Quiz: Which of These Works of Art Is Worth More?
It's like <em>The Price Is Right</em>, but for Warhol-collecting oligarchs.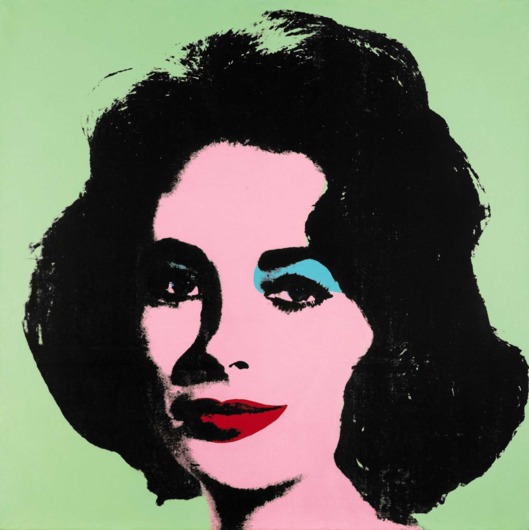 Over the past five years, the market for contemporary art has ballooned. Whether the reason is supply or shifting taste (or, more likely, a combination of both), we live in a world where you can buy an entire Old Master paintings sale at Sotheby's for less than the cost of one Jeff Koons balloon dog. Of course, there are outliers: Exceptional objects in categories as unsexy as carpets can still fetch eye-popping sums. And price is not always equivalent to cultural value. Major 20th-century works by African-American and women artists, for example, rarely surpass lesser works by their white, male contemporaries. On the heels of the record-shattering postwar- and contemporary-art auctions in New York last month, can you guess which works sold (over the last five years) for the highest price?
1

Richter's largest-ever photo-painting, an early word painting by Ruscha, Wayne Thiebaud's saccharine picture of pies, or one of Warhol's silkscreens of Elizabeth Taylor?
2

A seminal Joan Mitchell, a mature Clyfford Still, a fiery Mark Rothko, or a classic Pollock drip painting?
3

A shot of the Manhattan skyline by Stieglitz, a film still by Cindy Sherman, one of Ansel Adams' sweeping landscapes, or a portrait by the 19th-century photographer Julia Margaret Cameron?
4

A study traditionally attributed to Leonardo da Vinci, a contemporary trompe l'oeil by Tauba Auerbach, an ancient marble torso of Aphrodite or a folded canvas by Piero Manzoni?
5

A spray painted canvas by Sterling Ruby, an abstract by artist-about-town Alex Israel, an experimental 1970s work by Sam Gilliam, or a Jules Olitski Color Field composition from the 1960s?
6

An elegant sculpture by Brancusi in his prime, an ancient Peruvian masterwork, Elizabeth Taylor's tiara, or Jeff Koons's much-derided Popeye?
7

The Scream in pastel, a Renaissance drawing of an apostle, a suite of scribbles by Cy Twombly, or an illuminated manuscript owned by three generations of Rothschilds?
8

A springtime scene by Renoir, a major work by Impressionism's leading female pioneer Berthe Morisot, a late Van Gogh, or a rare non-nude portrait by Modigliani?
9

A Botticelli owned by John D. Rockefeller, a recently authenticated Velázquez, a brawl scene by Brueghel the Younger, or a voluptuous Rubens?
10

A gilded 19th-century teapot, a playful ceramic by Picasso, a pint-size Ming Dynasty cup, or a psychedelic egg by Ken Price?
11

A minimalist masterpiece you can walk on by Carl Andre, embroidery by the Arte Povera star Alighiero Boetti, a handspun Rio Grande blanket, or a 17th-century Persian carpet?
--

/

11

Take the quiz to share your score.