Don't Worry, Ryan Reynolds Is Still Playing Deadpool
The Deadpool movie is officially saved from the back burner.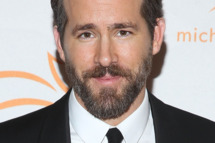 For a long time, the Ryan Reynolds Deadpool movie was definitely not happening. Then it was definitely happening, but no one would confirm whether Reynolds was in it. Finally, today, everyone made it official: Ryan Reynolds is definitely playing Deadpool, in a real movie that's coming out in 2016. To celebrate, Reynolds tweeted an image of Deadpool alongside the character's immortal catchphrase, "Uh ... it's chimichanga time."