Sony Hackers Leaked James Franco and Seth Rogen's Interview Payday
As well as Kevin Federline's, for whatever reason.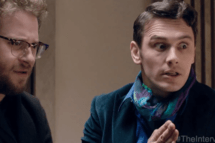 The Interview's budget, which included the compensation for its top-billed stars, was among the data Sony's hackers disseminated online earlier this week, according to Bloomberg. James Franco reportedly received $6.5 million for his role, while Seth Rogen nabbed $8.4 million plus for his involvement. The entire movie, which Rogen co-directed, purportedly cost around $44 million. Other odd findings: $241 went to a prop table of drugs, pills, and panties, and Kevin Federline was allegedly paid $5,000 for a cameo (will be interesting to see who got burned there when the movie comes out). Sony has been working with investigators to see if North Korea is behind the attacks, but, as of now, the cybercriminals are unknown.