Tim Burton: Beetlejuice 2 Is 'Closer Than Ever'
But it hinges on Michael Keaton's involvement.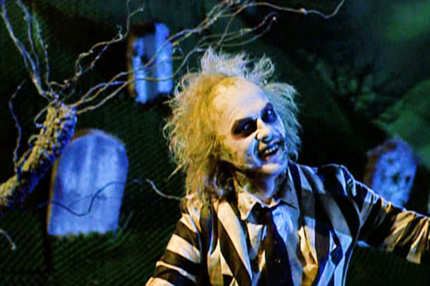 In the latest tease-saga that is Beetlejuice 2's development hell, director Tim Burton let slip to IGN that he thinks the sequel is finally somewhere around the corner. Burton underlined, however, that a follow-up to his 1988 original would only be possible if Michael Keaton returned to reprise his role. "There's only one Beetlejuice, and that's Michael. There is a script and I would love to work with him again. I think there is now a better chance than ever," Burton said, while promoting his latest film, Big Eyes. "I miss that character. There's something that's cathartic and amazing about it. I think it's closer than ever." A specific time frame was not given because it appears Burton is hinging on Keaton, who has had his hands full as of late with all things Birdman. David Katzenberg and Seth Grahame-Smith are working on the script, which has been set 27 years after Burton's first iteration (so it's not a remake), and Winona Ryder will also be involved. Burton's next immediate project is Miss Peregrine's Home for Peculiar Children.